2012.09.17
History of the Irish Network Japan
History of the INJ from 1987, compiled with input of all former Chairpersons and many key members
The Irish Network Japan was set up in Tokyo in July 1987, with the first AGM in November. Its aim was to provide a centre of communication, activity and exchange for Irish people living in Japan and to foster relations between the Irish in Japan and all those with an interest in Ireland. In the early years the annually elected committees created an energetic calendar of events (as much as six per month in its heyday) and was responsible for creating the first Irish Annual Ball, Sports Day and the St. Patrick's Day Parades in Japan. The central committee moved from being all Irish people in Kanto, to predominantly Japanese in Kanto, to now where it is a Japan wide committee balanced between Irish and Japanese representatives from the regional committees.
INJ stories from the past

here

(Founding of, feedback newsletter, Sports Day, Ball, Charlie Haughey, Kyushu, Parade Queen)

Parade history here (Details of Parade Growth and more on Tokyo Parade)
INJ booklets here (1993 Survival Guide, 1990 Green Frontier (Japanese), GAA rules (Japanese) )
Further links are below
Contents
1.Landmark Events and happenings
2.Organization structure
3.Further links

1.Landmark Events
text to complement above table;
1987-1992: Apart form doing more and more events (including regular Business Lunches, introduction of the INJ Ball and Sports Days) the 'Network' starts producing information booklets for Irish in Japan ; 'An Irishman's Guide to Survival in Japan' , GAA explanations in Japanese and a Members Directory detailing, the Job, Phone number and both Japanese and 'Permanent' Irish addresses of each member. There was also of course the newsletter, 'Feedback'..
In the early 90s the Idea of Parade came up, eventually going ahead on what ended up being a Pioneering walk around Roppongi with a Piper and some speeches. After considering another site in Ginza, the big move was made to Omotesando in 1993. That is now the permanent home of the Tokyo Parade, and the imagination has inspired the start up of 13 other Parade locations in Japan. Some former members have since moved to other parts of Asia and helped start other Parades there, notably Singapore and Seoul.
================================
1992-1995: In terms of Events this is the busiest era of the Tokyo based INJ, with regular Business Dinners / Lunches, Ski Trips, Fuji Climbs, Christmas Parties, St. Patrick's Day events, the INJ Ball, Sports Day. All of this was communicated through the INJ Newsletter 'Feedback', which ran until 1997. At the time INJ had an Office which acted as a nerve center for everything. The Office moved around a few places ending up finally by The Black Lion Pub in Meguro, at the end of the 90s an Office was no longer used.
At this time there was a large amount of Irish coming into Japan and was just before widespread Internet and Irish Pubs, so of course the Irish in Japan were very interested in community. Around this time members paid a fee of about 7000yen to be involved with the INJ. The Fee was phased out from 1997.
===============================
1995-1998: . Since there was now some Irish Pubs in Tokyo like Paddy Foleys, there wasn't such as much a need for the INJ to organize parties. Email mailing lists reduced the need for a newsletter, and obviously information was a lot more accessible. So the membership fee was abolished from 1997 and income is, and still is, collected from Events and Sponsors. INJ committee members put a lot of focus on The Celtic Festival, which ended up too hard an effort in 1998. Hibernian Players were still quite active, a stage was even built in the Black Lion Meguro for their performances.
===============================
2003-2010 : INJ begins to sprout up again committees outside of Tokyo and become a true All Japan organization. After a period of focusing mainly on the St. Patrick's Day Weekend (Parade & Sports Day), INJ begins increasing its events again throughout the Calendar year (Christmas Party, Festival Booths, day trips etc.)
===============================
2011: With further expansions INJ is decentralized and Head committee is changed from Tokyo to an All Japan committee. INJ goes backs to its roots and sets up a committee designed especially for Emigrant Support.
2. Organization structure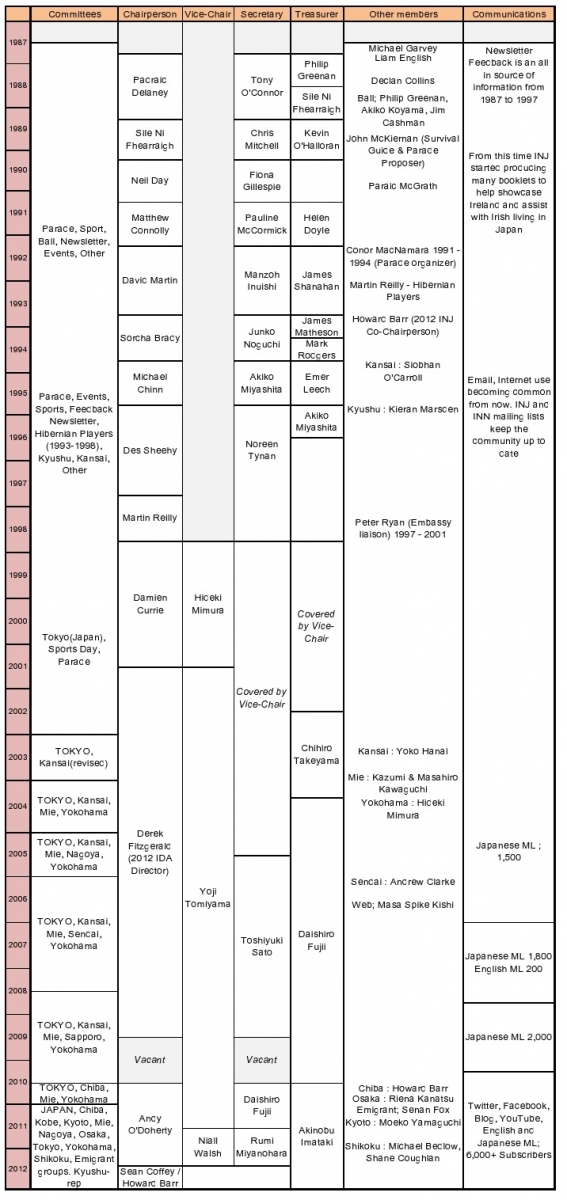 3. Further Links
307 years of Irish History in Japan here
Press clippings 1993 to 94 here
INJ history facebook page here (Thanks to Neil Day)
more to follow…..